April 4th, 2012 | kristen
Fire at Mercy House
At 3:00 AM, April,2, 2012, a fire broke out at the maternity home.
Thankfully everyone got out of the house and the fire was contained to one bedroom.
One of our young moms woke up to feed her baby. The electricity was off and it was pitch black in the house. She lit a candle to see, but fell asleep with it lit next to her bed. It's very common for homes use candles when there isn't electricity (we will be coming up with a better solution), although we don't normally use them at night.
She awoke to flames near her back and over her head, her tiny baby snuggled up next to her body. The girls screamed and Maureen sent them downstairs and outside with their babies. She grabbed a blanket to beat the fire, but it caught on fire. Our other staff grabbed buckets of water and were able to help her get the fire put out.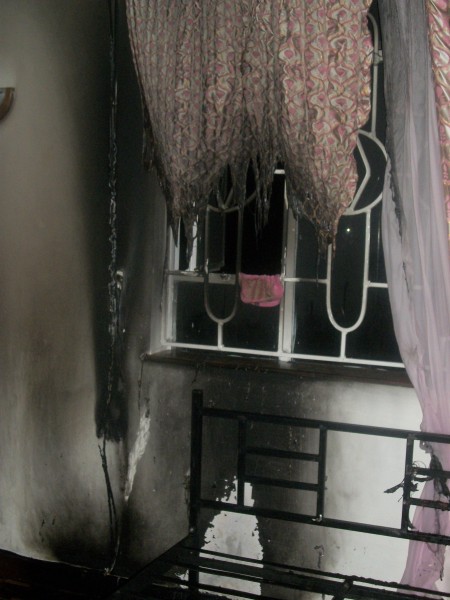 Maureen, Annette (our housemother) and Zacheeus (night guard) beat the fire that had lit up the mattress, wall and curtains. Other than some smoke inhalation and some blisters, everyone is fine.
The doctor gave them inhalers. The babies were checked out. We are so thankful to God for protecting our family in Kenya.
Please pray for health and that we can repair the room back to it's original condition.
Maureen said, "We are grateful to our Almighty daddy, the protector of all creation and one who is stronger than any other God. I surely saw the hand of God, He is the most High and the only God that I know. I am also so grateful to those who sacrificed a minute to lift us before God. We love you so much!"
Updated: Maureen stepped on thorns the night of the fire and has swollen foot and burned hand, please pray for a quick recovery. Also, Lucy is due any day with our sixth baby, please keep her in your prayers.